Justice Thomas Must Resign or Be Impeached
(Washington, DC) – MoveOn, Demand Justice, and Working Families Party ran a new ad this morning calling out Justice Thomas for not being able to impartially call "balls and strikes"—as Chief Justice Roberts said the Supreme Court must do—when his wife is in the game. 
"Ginni Thomas aided and abetted an insurrection against America to throw out the results of an election, and then Justice Thomas tried to help cover it up by not recusing himself from the case where Trump tried to hide White House documents, including Ginni Thomas's texts," said MoveOn Executive Director Rahna Epting. "Justice Thomas has clearly demonstrated he is not fit to serve on the Supreme Court and must resign or be impeached."
"Justice Thomas has plunged the Supreme Court into an ethics crisis, and there is no reason to believe the Republican-dominated court will do anything but let its legitimacy continue to erode," said Demand Justice Executive Director Brian Fallon. "If Thomas will not step aside, it's up to House Democrats to begin impeachment proceedings."
"Justice Thomas's wife actively conspired to overthrow a free and fair election," said Working Families Party National Director Maurice Mitchell. "At a minimum, Justice Thomas should have recused himself from any of the cases with which Donald Trump and his lawyers flooded our nation's highest court. Instead, he effectively covered for his wife's association with an attempted coup. No one can ever again look at him as an impartial arbiter of justice or the law. Let's be clear: This isn't about being a progressive or a conservative. Not taking part in a coup should be a bipartisan value. Even though he committed this dishonorable act, we know Justice Thomas won't do the honorable thing and resign. It's incumbent on both parties to impeach him, and the vote in the Senate should be 100-0."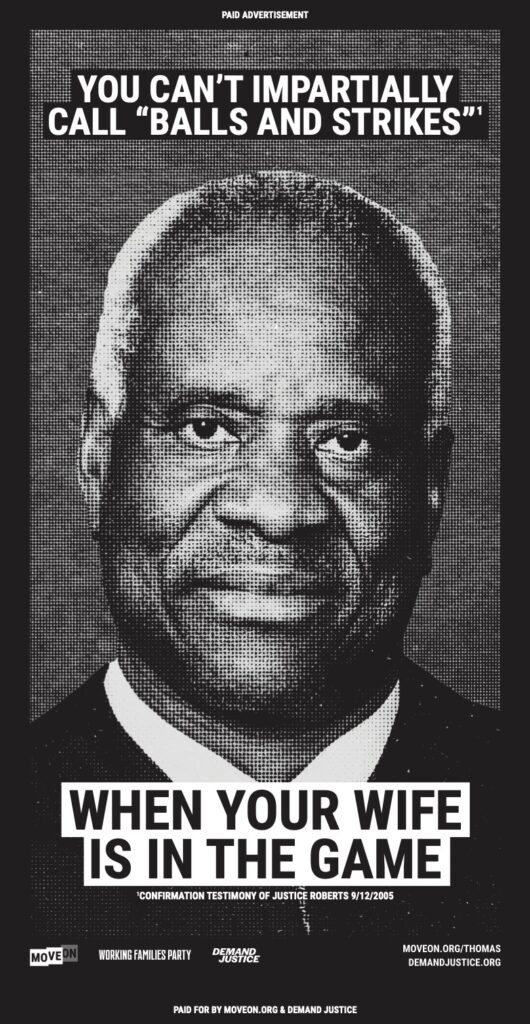 ###
MoveOn is one of the largest independent progressive advocacy groups in the United States that mobilizes millions for a better society—one in which everyone can thrive. Whether through supporting candidates, passing legislation, or changing our national culture, MoveOn members are committed to mobilizing together for an inclusive and progressive future marked by equality, sustainability, and justice.
The post New Ad: Justice Thomas Can't Call Balls & Strikes With Wife In The Game appeared first on MoveOn: People-Powered Progress.